PVC Badge - We Do Bad Things
Was £2.00

Now £0.50

Product Ref: 03263

www.meanandgreen.com//army/Mean_and_Green/PVC_Badge_-_We_Do_Bad_Things/3810/3263.html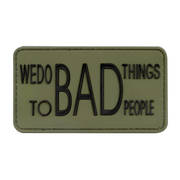 3mm flexible PVC material
Male velcro on reverse
Approx size 7.5 x 4cm
Please note that this price is a special web only offer and may not be available in our shop.
Grade: Civilian Issue - New
Available Colours:

This information was accurate at 8:04pm on Mon 18 November 2019 when this page was printed. Please visit www.meanandgreen.com for up-to-date product information and stock availability.
Web: www.meanandgreen.com
Email: ask@meanandgreen.com