Security Patrol Belt System
£26.00
Product Ref: 01723
www.meanandgreen.com//army/Viper/Security_Patrol_Belt_System/3620/1723.html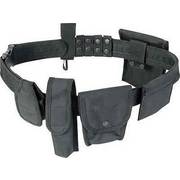 Mobile phone holder (7 x 13cm)
Notebook holder (14 x 21cm)
Glove pouch (10 x 10cm)
Baton/torch holder (5 x 21cm)
Handcuff pouch (11 x 15cm)
Key keeper
Strong belt with quick-release buckle
Adjustable up to approx 48 inch waist
Removeable pouches also available separately.
Grade: Civilian Issue - New
Available Colours:

Frequently Asked Questions
Q: What is the waist size of this belt?
A: It is expandable up to approx 48 inches.
Q: Can the belt be adjusted down to 28inch?
A: Sorry no, it adjust down to approx 32 inch waist.
Q: can this belt come in an olive green ??
A: Sorry no, it is only available in black.
This information was accurate at 12:07am on Sat 6 June 2020 when this page was printed. Please visit www.meanandgreen.com for up-to-date product information and stock availability.
Web: www.meanandgreen.com
Email: ask@meanandgreen.com