Para Cord
£3.00
Product Ref: 01081
www.meanandgreen.com//army/Mil-com/Para_Cord/3870/1081.html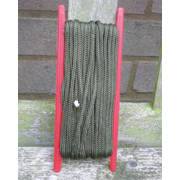 Lightweight but strong cord
Read the para cord product review.
Grade: Military Style - New
Available Colours:

Olive green
Multicam Style
Frequently Asked Questions
Q: What is the length of the para cord?
A: Approx 50ft.
Q: Does it come with the green spool shown in the photo?
A: The ones we currently have in stock have a red spool, but yes it is included.
Q: Is this the correct diameter for a boot lace please ?
A: Yes, this could be used as a boot lace.
Q: Is this the seven strand para cord?
A: Yes it is the seven strand para cord.
This information was accurate at 12:01am on Thu 24 September 2020 when this page was printed. Please visit www.meanandgreen.com for up-to-date product information and stock availability.
Web: www.meanandgreen.com
Email: ask@meanandgreen.com